The Innovative Design of MOAD's New Education Lab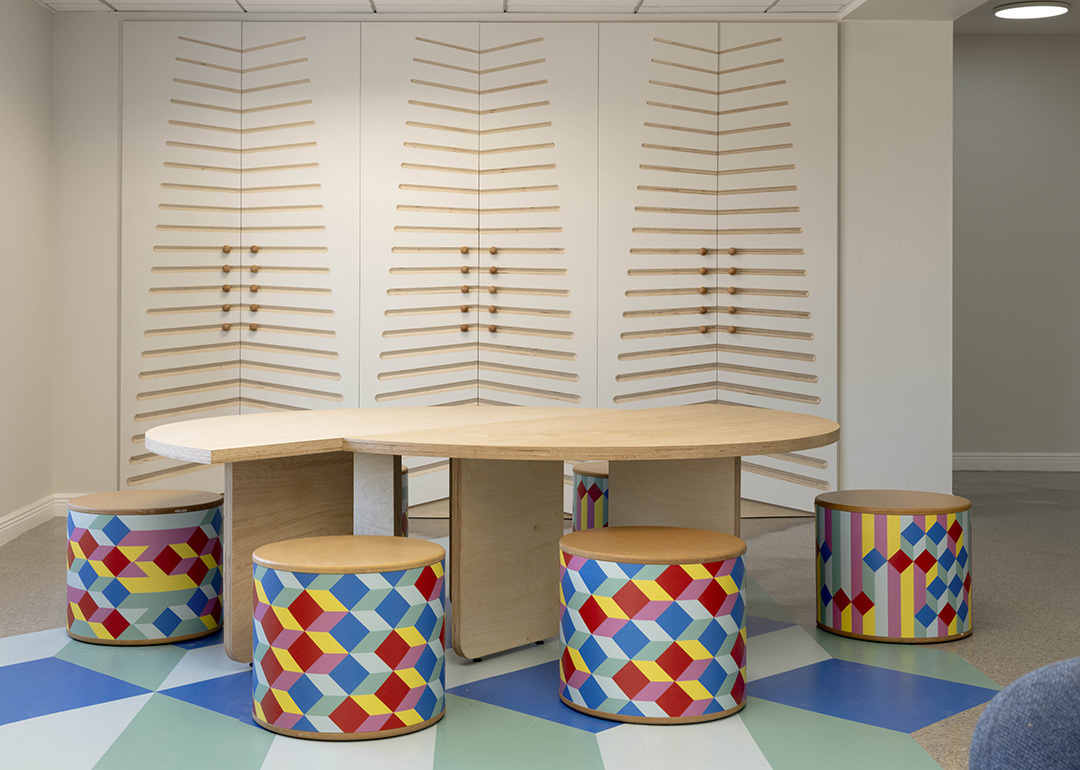 MOAD's versatile new Education Lab boasts an eye-catching design grounded in historical styles.
AMLgMATD's eye-catching design includes storage cabinets with carved patterns, shelving units with colorful abstractions, modular worktables, and boldly-hued geometric floor decals that echo the optical designs wrapped around low stools. Amid monochrome wooden surfaces, you'll find strategically-placed pops of color, a playful combination that mirrors MOAD's creative approach to educational programming.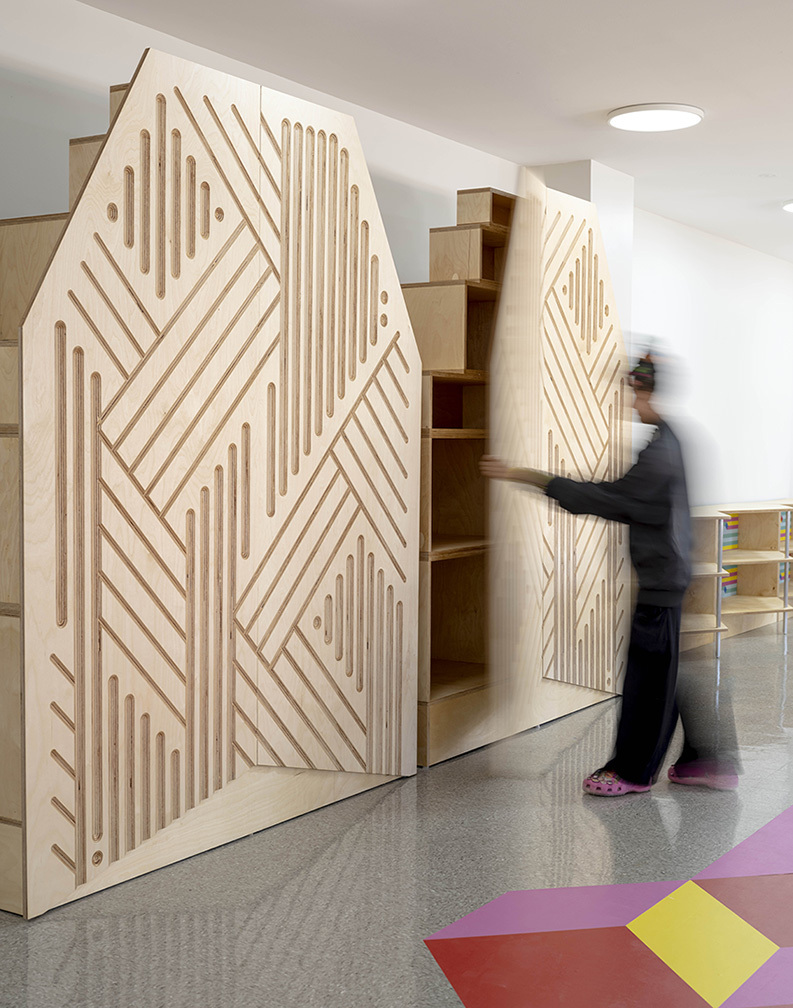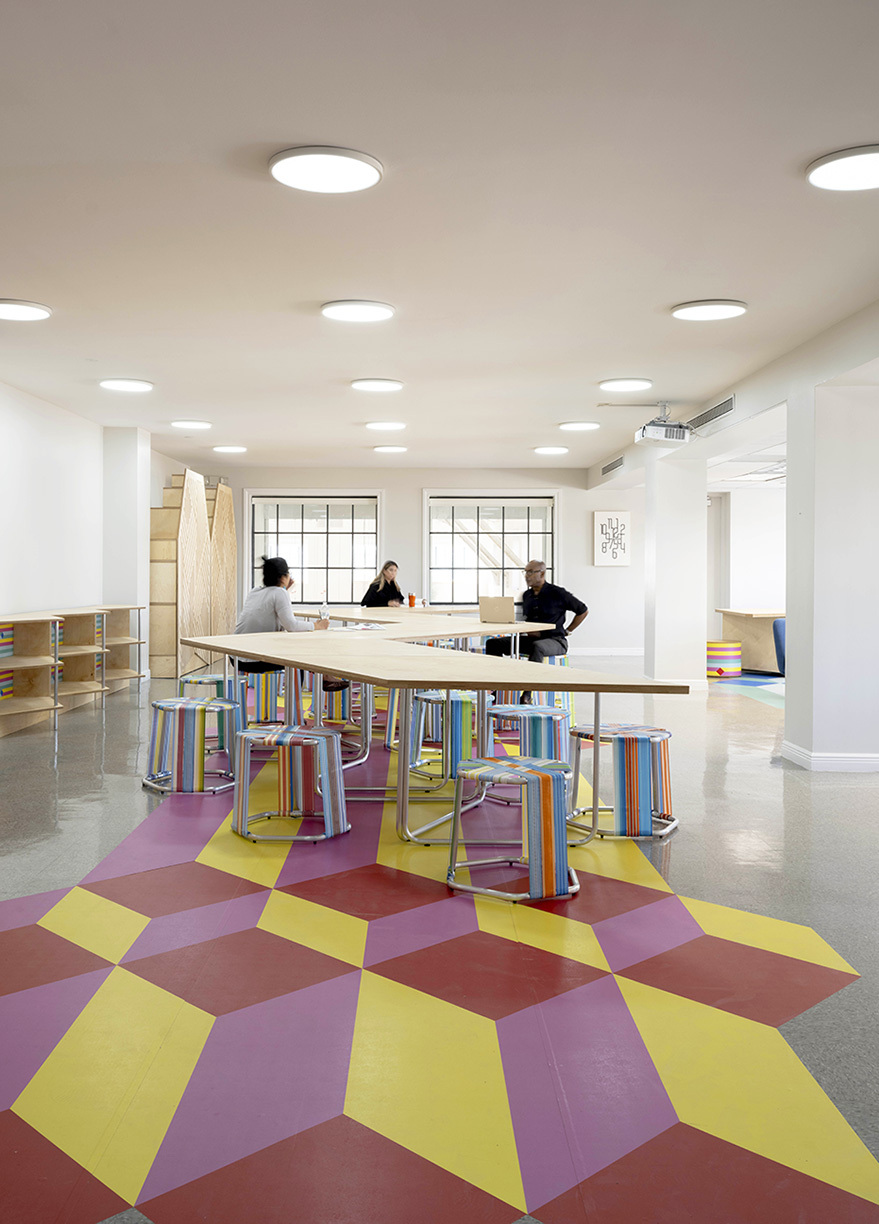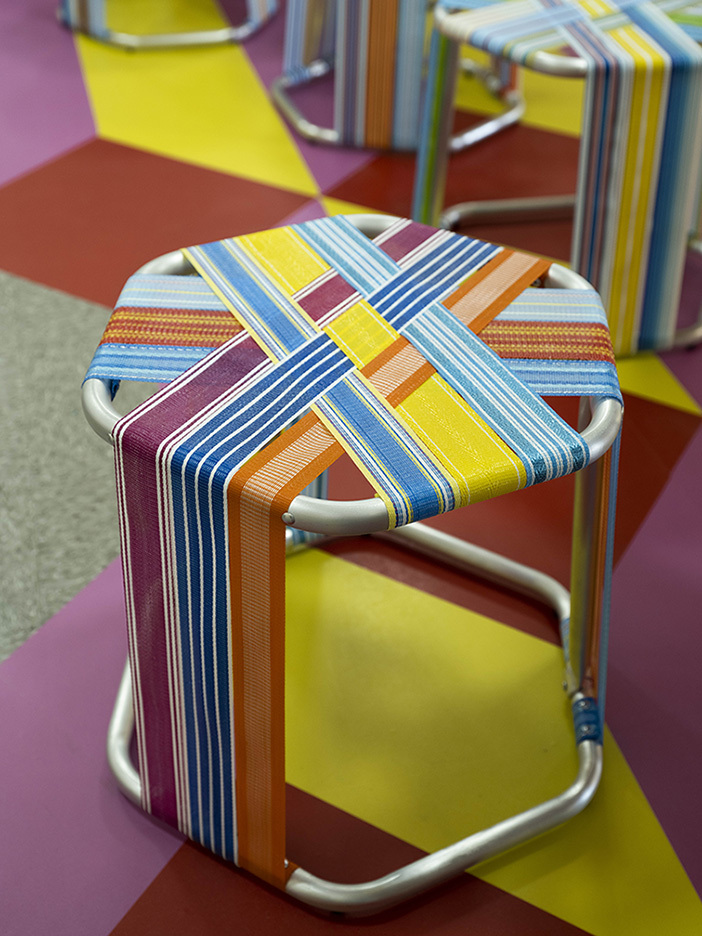 Tropical Cubism
MOAD's Education Lab inspired the designers to create a new, unique style they dubbed "Tropical Cubism," a hybrid of Czech Cubism and Tropical Art Deco.
Czech Cubism is an avant-garde architectural movement that was primarily practiced in Prague during the early 1900s. Taking cues from traditional Cubist paintings, Czech Cubism features exaggerated angles, geometric shapes, and funky, three-dimensional objets d'art.
AMLgMATD's "Tropical Cubist" design also draws inspiration from American Tropical Art Deco, a fantastical take on French Art Deco and American Streamline styles.
"Our goal for this room is to create a space where the past inspires the present artistically, while creating an environment that pays homage to our personal historical influences," the designers explained.
"In the creation of this pseudo-style, we deliberately chose to utilize economical material processes that were newly developed and perfected during the period of the source styles, such as plywood construction, metal tube bending, rapid fastening, and machine weaving."
Additional materials used to construct MOAD's Education Lab include birch plywood, MDF (medium-density fiberboard, recycled from previous MOAD exhibitions), aluminum tubing (60% recycled), laminated vinyl flooring, polypropylene webbing (unused old stock), and non-toxic, eco-friendly coatings.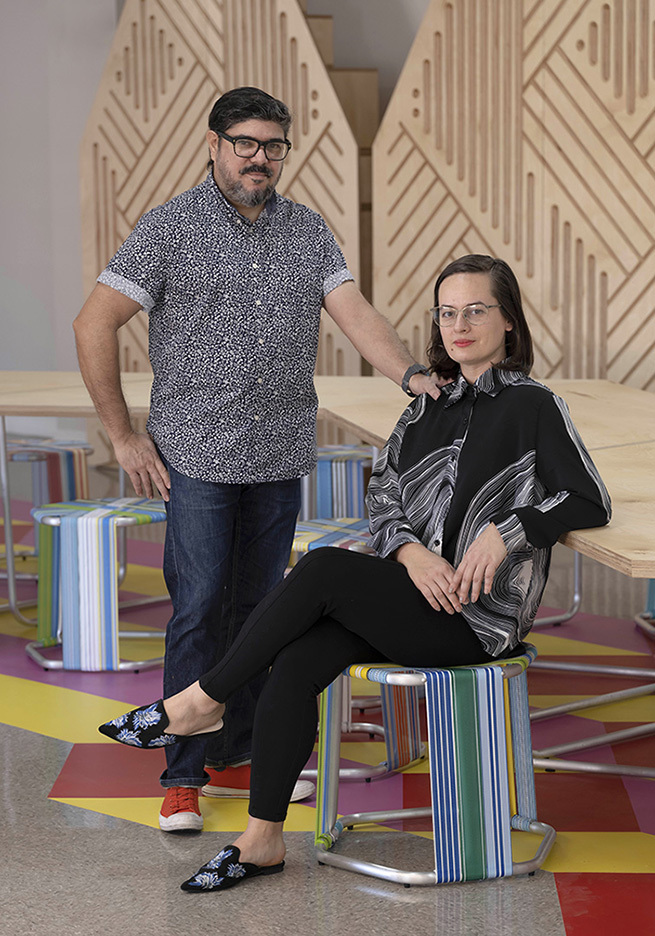 About the Designers
AMLgMATD—a Miami-based collaborative studio established by Laz Ojalde and Natalie Zlamalova in 2014—experiments in works of art, design objects, and environments that reflect their love of unusual and overlooked materials.
AMLgMATD incorporates historical and geographical research into their visual language, playing with the sense of nostalgia, the application of familiar materials onto new forms and unexplored materials into familiar settings, and redefining their surroundings.
AMLgMATD has shown work in various art museums and galleries throughout South Florida. The studio has also activated public spaces in the City of Miami with award-winning installations, in addition to installations at the Miami Design District and Untitled Art fair in Miami Beach during Art Basel.
Co-founder Laz Ojalde is a Miami native with a background in interior and product design. Prior to AMLgMATD, Ojalde ran a local artist hub called studioLMNOQ, which was mentioned in the 2013 and 2014 annual Louis Vuitton City Guide as a place of interest to visit in Miami.
His fellow co-founder, Natalie Zlamalova, was born and raised in the Czech Republic. She earned a BFA with honors in Graphic Design from Otis College of Art and Design. Her personal artwork has been included in various museum and gallery exhibitions across Los Angeles and South Florida.